Duncan Ross and Dure Foods: A Winning Combo
I knew Duncan Ross was a competitive triathlete, but when I asked him if he would try Dure Foods' Proteins, Electrolytes & BCAAs, he asked me if I would like the Dure Foods logo on the jersey he would wear at the 2016 Ironman World Championships. That is the kind of guy Duncan Ross is.
This is his race:
October 8, 2016. Kona, Hawaii:
It's 3 a.m. and Duncan is getting ready to make the 40-minute drive to the start line of the 2016 Ironman World Championships. That commute would be the easiest part of his day.
Duncan has planned, trained and qualified for this day for 3 years.
Swim Race – Head above Water
The starting line is in the water and it is mayhem as 1,500 men bob around ready for the mass start of the 2.4 mile swim.
When the cannon fires at 6:55 a.m. it's all bubbles and feet – including a couple to the face.
Duncan's plan was "too find some feet and draft." He positioned himself far left to give himself room at the right turn of the rectangle-shaped course. But there was no room at the turn and for every stroke Duncan held back waiting, he knew there were hundreds behind him who had just gotten one stroke closer.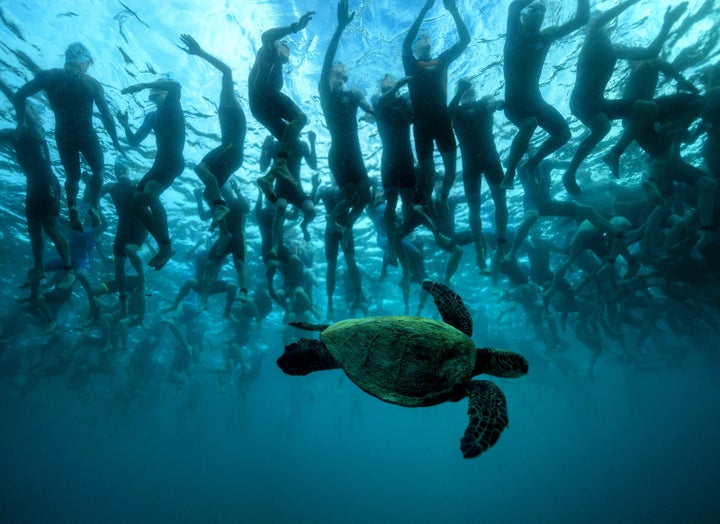 Swim racers want to propel themselves in a way that keeps their bodies high on the water to reduce resistance as much as possible. In a crowd of 1,500 swimmers, all making a right turn at the same point, with competitors literally climbing over one another, the body gets pushed down.
Duncan says it would make all the difference to be able to get ahead of the middle pack early on and hold it. This would allow him to swim as he has trained and stick to his plan, and not be forced to slow down and be reacting to the chaos of the middle pack.
Duncan completed the swim in 1:05. He was 778th – right in the middle.
Bike Race – Breaking Out
After a swim-to-bike transition time of 3:59 minutes, Duncan felt fresh as he began the 112-mile bike race.
Duncan's priority was to break out from the middle pack. "Ride the hard part's easy; and the easy part's hard," he said. "Always stick to the plan. Stick to your numbers." These "power numbers," Duncan explains, "are a measurement of output that is absolute."
Duncan's bike is equipped with a power meter on the crank arm that sends this data to his bike computer for constant feedback. "It's how hard I'm pushing on the pedals." In conjunction with his perceived effort – how he feels – he is able to most effectively exert his power while keeping enough in the tank to run a marathon after.
There is a rule in Ironman triathlon – A rider can't draft. A pass must be completed in 25 seconds, once the approaching rider is within six bike lengths.
If you are overtaken, you must fall back, until you attempt to re-take the position. A violation means being sent to the penalty tent for 5 minutes. Being in the middle of the pack meant Duncan was constantly negotiating the riders around him.
There is very little vegetation on the stunning black landscape of the lava fields the riders pass through. Duncan says he didn't find the heat too bad – after months of Canadian summer training – but unpredictable wind gusts, up to 72 km/hr were enough to blow a racer over. Areas shielded by the wind were where to take a hand off the aero bars to take a drink and consume nutrition gels.
"People might not realize how tightly racers need to hold the bars in Kona," says Duncan. "In windy sections of the course you have to stay cool. Don't overreact, lean into the wind and keep peddling. A racer is more stable with pressure on the pedals."
The bike course is an out and back. After the turnaround point Duncan was riding amongst more equal-calibre riders, which was better, but after 41/2 hours of racing, Duncan was beginning to feel the strain. His triathlon was half over.
Fighting a headwind, Duncan used the last hour of the bike race to focus on his nutrition to fortify himself as best he could for his approaching marathon run.
Duncan completed the bike leg in 5:03.57. He had moved from 778th place at the end of the swim, and was now 350th overall. He had gained 428 places!
After spending 5 hours clenched in a tight and aerodynamic crouch on his bike, Duncan said it was a relief to get off the bike and stretch out. Although fatigued, Duncan had passed a milestone of the race and felt good. "That's about the end of good feelings," he said.
The Run – Marathon Man
Duncan had a bike-to-run transition time of 3:34 minutes, slightly faster than his previous one. The finish line lay 26 miles ahead – a full marathon.
Duncan had been racing of over 6 hours now and negative thoughts started to creep in. "I felt claustrophobic at times," he said. "This is really where it hits – the mental aspect. I blocked it out and concentrated on my breathing."
"You tell yourself: "You feel good! You are light on your feet! You can do this!"" There were 349 racers in front of him.
And Duncan could do this. He continued to pass other racers. "I had a sense that I was gaining and that felt good but I had to maintain. Pace is everything."
Leaving the crowd and cheers behind, Duncan ran down the quiet, Queen K highway out of town towards the "Natural Energy Lab" – where the science of heat is studied. It is the hottest place on the island, at the hottest time of the day.
"This is where the real race starts," Duncan explains. "I began to shiver and my vision blurred. I was having difficulty reading my watch. For the last 10 km I just counted from 1-100 over and over again, in my head."
At a point 3km from the finish, Duncan passed his NRG Performance Training team coach and veteran professional, Nigel Gray.
He was having trouble seeing, but he could hear him: "Don't slow down! You can do this!" Duncan had been told that as he proceeded down Ali'i Drive to the finish line, to be sure to drink in the experience: The thousands of people cheering and the waving flags.
It is a fitting spectacle for all racers here, at the pinnacle of their pursuit.
"I had enough left in the tank to finish the last 500 meters strong," Duncan said.
I passed two more racers on my final push, and was totally surprised when one of them caught back up and passed me right before the finish line." With this exception, Duncan had overtaken 236 runners in 3:08.30.
The view of Duncan Ross crossing the finish line shows a composed and confident athlete, framed by a well-timed fluttering Canadian flag.
Duncan finished 114th overall, of the over 1500 men who started with him in the water that morning. After 9 hours and 25 minutes it was now just after 4 o'clock in the afternoon.
Duncan spent 3 years getting to this spot. Kona Ironman World Championships lived up to every expectation. It was an over the top extravaganza. The course itself – the conditions were so extreme. It was phenomenal! You've got to respect that course." Duncan reflected.
After his outstanding Wold Championship debut, Duncan plans to qualify again for the Ironman World Championships in 2018.
Dure Foods is very proud to support Canadian triathlete Duncan Ross and provide nutritious supplementation, including Proteins, Electrolytes & BCAAs.
Congratulations Duncan!
---
If you would like further information on any of our world-class products, please contact us here.
https://durefoods.com/wp-content/uploads/2016/11/Duncan-Ross-Ironman.jpg
720
1280
Dure Foods
https://durefoods.com/wp-content/uploads/2013/04/logo-2.png
Dure Foods
2016-11-17 16:10:21
2019-01-22 17:22:54
Duncan Ross and Dure Foods: A Winning Combo